Takahashi Market: Satisfying Northern Californians with Japanese, Hawaiian, and Asian foods since 1906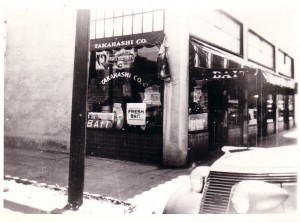 By Miki Garcia
From its inception as a general-purpose store selling clothing, boots, and other household supplies, Takahashi Market has continued to serve the Asian and Hawaiian community for more than 100 years.
Tokutaro Takahashi immigrated to San Mateo from Wakayama prefecture of Japan in 1906, and was later joined by his wife Ishiye. Tokutaro realized that there was a need for a general store catering to the Japanese-speaking people, and he found a way to serve the community as well as provide an income for his family. His two children, Masa and Kenge, were soon trained to help out in the family business. Shortly after the bombing of Pearl Harbor and America's entrance into World War II, the Japanese-American families like the Takahashis were interned in relocation camps. Kenge served in Italy and France as a member of the highly decorated 442nd Regimental Combat Team, and came back after the war to carry on the family business.
Their customer base has changed over the years from mostly Japanese immigrants to Asian and Pacific Islanders in the 1950's through 1980's when there were very few other Asian markets on the peninsula. In the late 1950's, a large number of Hawaii residents moved to the San Francisco bay area because of the jobs created by the opening of the San Francisco International Airport. Many of these kama'aina looked for the ethnic markets like Takahashi Market where they could find familiar foods that were common in Hawaii but harder to find on the mainland. Foods like kamaboko, fresh ahi for sashimi, shoyu, rice, and the ingredients for cone sushi. At that time, Takahashi Market carried mostly Japanese food items, but a lot of the kama'aina who became regular customers of the store asked Kenge and Sachiko if they could get more things from Hawaii. For the last 50 years, the Takahashi family have been welcoming new Hawaiian transplants to the Bay Area with their selection of local food staples like Hawaiian shoyu (King's, Diamond, and Aloha), Takara Masamune sake (Haw sake company), King's sweet bread, and poi, as well as comfort foods like poke, mochi, spam musubi, plate lunches, island kim chee, and sweet bread. They are also one of the few sources on the mainland for fresh Hawaiian limu (seaweed), kukui nut, and Hawaiian sea salt — all key ingredients in making poke. The store also stocks various frozen concentrates for guava nectar and passion fruit. Gene still remembers a hand-lettered sign that his mother put up announcing the new arrival of "Frozen Passion" — something that really puzzled mainland people who were not familiar with likikoi. It's always obvious when a recently transplanted kama'aina steps into the store and starts discovering familiar foods — their oohing and ahhing can be heard throughout the store.
The business evolved into a specialty grocery store and bait-and-tackle shop serving the Japanese and Asian population in the area. Now, the store has a wide variety of customers from all backgrounds who are interested in Japanese, Hawaiian groceries as well as Chinese, Korean, Filipino and Thai foods. Kenge's wife Sachiko was known for her warm aloha spirit, and she was instrumental in building their loyal customer base. Their children Gene, Norma, Jack, and Anne learned how to help out at the store as they grew up. Today, Gene works full time to maintain the family business along with help from Norma, Anne, Jack, Gene's wife Phylis, son Bobby, Charles Okita, Shingo Kohara, Eileen Migita, Rik Sasaki, and Andrew Archibald. Sachiko passed away in 2003, but Kenge, a spry 89 years old, still remains involved in the business.
Aside from new Japanese and Hawaiian food products that they bring in, the Takahashi family currently spend a lot of time coming up with new goodies from their kitchen. To help celebrate their centennial in 2006, Takahashi Market remodeled and added a kitchen, and the Japanese and Hawaiian take out food has become a large part of their offerings. On top of their regular plate lunches such as chicken teri, salmon shioyaki, flank steak kalbi, Hawaiian style chili with Portuguese sausage, they have been experimenting with kalua pork quesadillas and Hawaiian nachos topped with kalua pork and lomi salmon
There have been several generations of families shopping over the years at Takahashi Market, paying tribute to the enterprising Tokutaro who started the business more than 100 years ago, and to Kenge and Sachiko, who worked so hard to keep the business evolving to accommodate a changing world and market place.
Takahashi Market
221 South Claremont Street (off 3rd Avenue)
San Mateo, CA 94401
650-343-0394
Open Monday through Saturday: 9 a.m. – 6 p.m.
Open most Sundays: 11 am – 3 pm
www.takahashimarket.com
Article published in 2012.