Welcome to Takahashi Market
Takahashi Market was started back in 1906 by Issei immigrant, Tokutaro Takahashi. This family owned and operated market has served the San Francisco Bay Area community for four generations.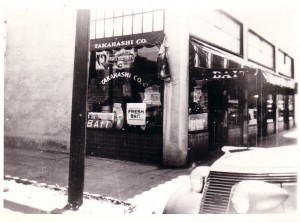 Takahashi Market carries a complete line of Asian and Hawaiian foods as well as cooking accessories. Besides specializing in Japanese and Hawaiian food items, the market also stocks Chinese, Korean, Filipino, and Thai foods. Several cookbooks explaining how to use the myriad number of exotic ingredients can be found in the store. Also available are free recipes for various Asian and Pacific-Island dishes.
We added a kitchen in 2006 – coinciding with our 100th anniversary in business. We serve Hawaiian-style plate lunches, including items such as loco moco, kalua pork, spam musubi, chili and rice. Some of our newer menu items include our salmon musubi and kalbi beef musubi.